December 2022 Update
Electrical fire hazards can silently develop at any time, no matter the age of your home. The potential sources are many and can include external factors such as a failing power connection from your utility. Discover more about the types of potential fire hazards Ting identifies and remediates for homeowners, below.
---
Before digging in, it is important to know that the data supporting this summary is based on a catalog of electrical hazards Ting has detected, localized, identified, and mitigated before any major consequences or losses, each confirmed by a qualified electrical or utility technician. It draws from a few thousand customer cases across the U.S.
First, some definitions. For the purpose of this summary, we classify every potential fire hazard as either an Electrical Fire Hazard (EFH, those generally found in the home) or a Utility Fire Hazard (UFH, those related to electric utility infrastructure). We further break out EFHs, as indicated below.
EFH – Electrical fire hazards in homeowner devices, appliances, and home systems
EFH – Electrical fire hazards in home electrical infrastructure
UFH – Electrical fire hazards introduced into the home by electric utility infrastructure
---
EFH – Electrical Fire Hazards in Devices, Appliances, and Home Systems
These hazards are separate and distinct from those associated with a home's existing electrical infrastructure (wiring, outlets, panel, switches, etc.). Importantly, the data reveals that home age is not a leading determinant of electrical fire risk where devices, appliances, or home systems are the hazard source.
Light fixtures represent the largest proportion of electrical fire hazards. These include chandeliers, flush-mount ceiling lights, sconces, outdoor lighting, and desk or floor lamps. Some were due to poor device quality, others are related to poor installation or age.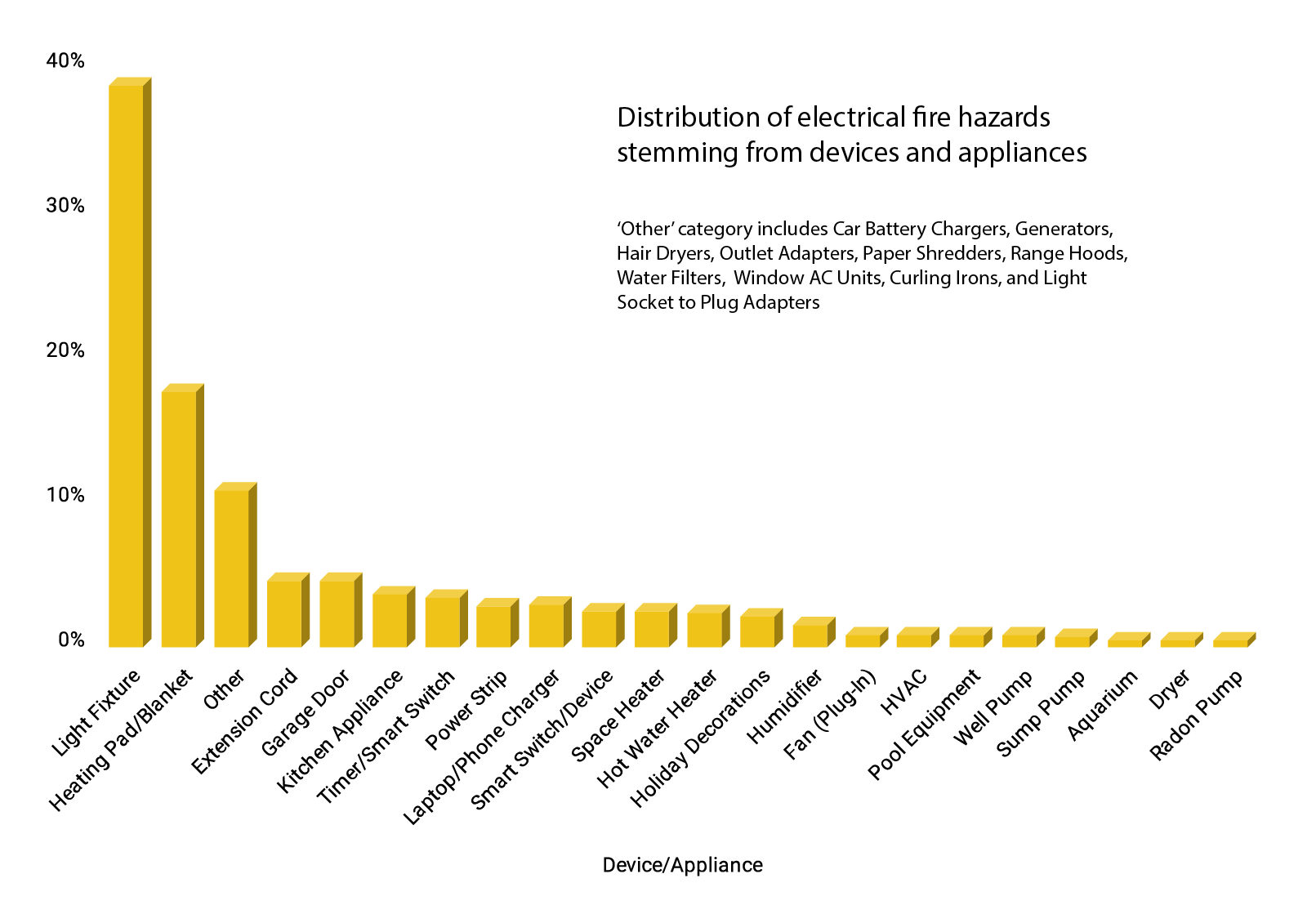 The hazards found in faulty heating pads/blankets are not insignificant; upon inspection, the arcing activity was due either to poor component quality (even in newer blankets) or to general wear and age.
Surprisingly, the data reveals that tech devices such as laptop chargers and smart switches represent a notable proportion of hazards found. This could be related to inferior aftermarket and/or non-UL-approved devices.
---
EFH – Electrical Fire Hazards from Home Electrical Infrastructure
These hazards include those associated with a home's existing electrical infrastructure. Many of these electrical system components are generally hidden from everyday view. This includes wiring inside walls and above ceilings, electrical outlets, wall switches, electrical panels (including the panel itself and/or breakers enclosed in the panel), and on the homeowner's side of the electric utility meter.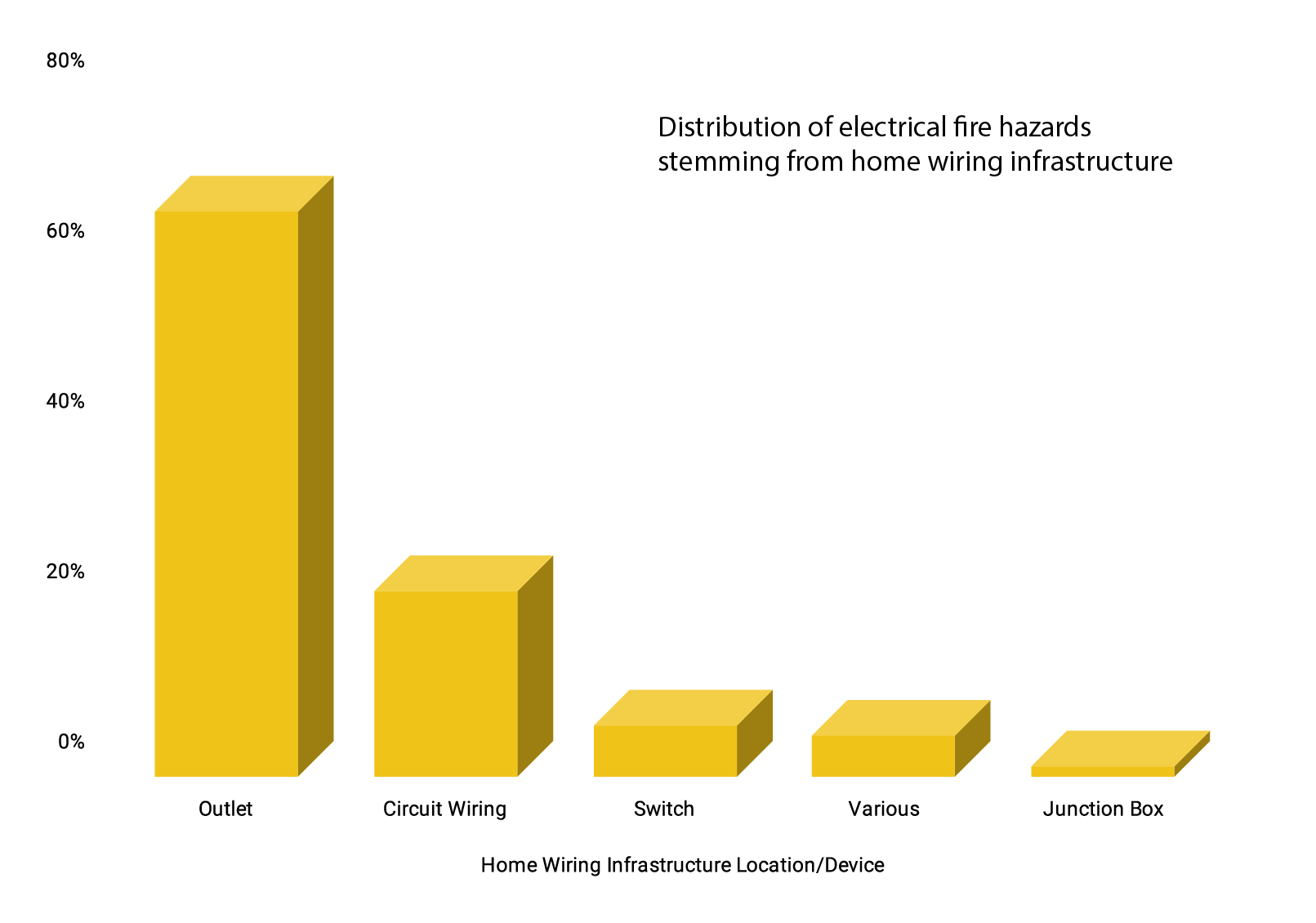 Because electrical infrastructure is much less likely to change over a long period of time, the likelihood of a hazard arising tends to correlate with the age of the home, in contrast to hazards related to devices and appliances, as described above.
---
UFH – Home Electrical Fire Hazards from Electric Utility Infrastructure
These hazards are associated with the electric utility's local distribution infrastructure, which includes transformers, meters, and the connections between them.
Loose/poor neutrals are by far the most common finding; unchecked, this condition can cause surges and sags that can damage electronics and appliances, and cause other safety and fire hazards. You can learn more here about these faults here.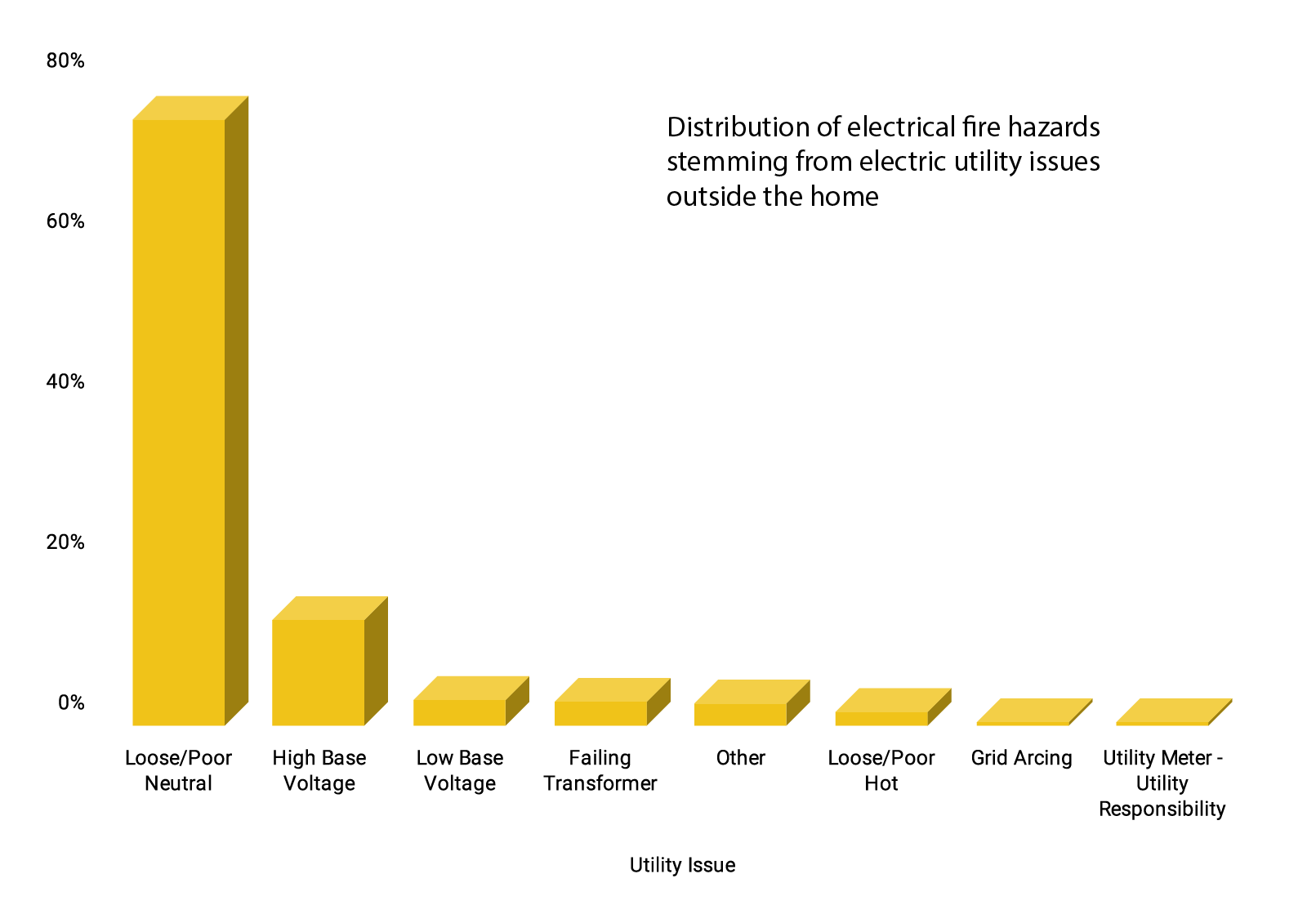 Ting data suggests, as expected, that older homes in older neighborhoods generally have older or possibly outdated grid infrastructure. Equally important, the data clearly shows that newer homes and neighborhoods are not immune to these hazards.
---
As you may have guessed after reading this post, there's much more data behind each of these Ting-identified hazards. We're excited about how this information is helping the fire safety industry. We share additional findings and insights from earlier in 2022 here, with an expanded view of the year planned for early 2023.