Our sole mission and focus are on fire prevention and helping to protect families and homes – and our 2,000 documented Ting fire prevention cases are evidence of that. Every prevention case yields additional learnings that we incorporate into making Ting even better and helping the safety community understand more about these hazards. Because electrical fire hazards vary in nature, we explore below what Ting is designed to detect – and what Ting is unlikely to detect today.
---
Ting's Electrical Fire Prevention Performance
As of this post, statistically, Ting has demonstrated the ability to reliably prevent a ~75% of all electrical fires. Most – but not all – electrical fires are started by low-level arcing (think 'sparking') that develops over extended periods of time (days, weeks, months, and even years). Ting is designed to detect these signals, alert on them, and remediate them.
However, not all fires that are classified as 'electrical' in nature can be prevented by Ting today.
---
Electrical Fire Classifications
Electrical fires represent some of the worst fires with respect to breadth and damage due to their incipient nature. Fire departments in the U.S. that participate in FEMA's National Fire Incident Reporting System (NFIRS) have the often-difficult task of determining and classifying a fire's root cause following a response to an incident. Especially true for electrical causes, fires that have spread past the main ignition point can often destroy what would otherwise be clear evidence of ignition. We mention this here as our goal is to prevent the fire in the first place; what we learn in each case is invaluable to the fire safety community.
---
Fire Hazards Detected by Ting
Most electrical fires are started by low-level arcing (think 'sparking') that Ting detects and monitors over extended periods of time. Ting then notifies the homeowner, and the Ting service further identifies and mitigates the hazard (with the help of a licensed electrician if needed), thus helping prevent the potential fire.
If you're interested in more technical detail regarding Ting fire prevention case data, you can read more here in a technical paper published earlier this year.
---
Other Causes of Electrical Fires
We've established that Ting reliably prevents 75% of all electrical fires. Which begs the question, what are the situations where Ting is unlikely to prevent an electrical fire? These include:
Lightning strikes
Immediate and catastrophic electrical failures
High resistance or glowing connections
Old, poorly maintained, or defective appliances
Before diving into this, the image below is a helpful view of common fire causes and what Ting is designed to detect and warn on (yellow) and what causes fall outside of that. We describe this in more detail below.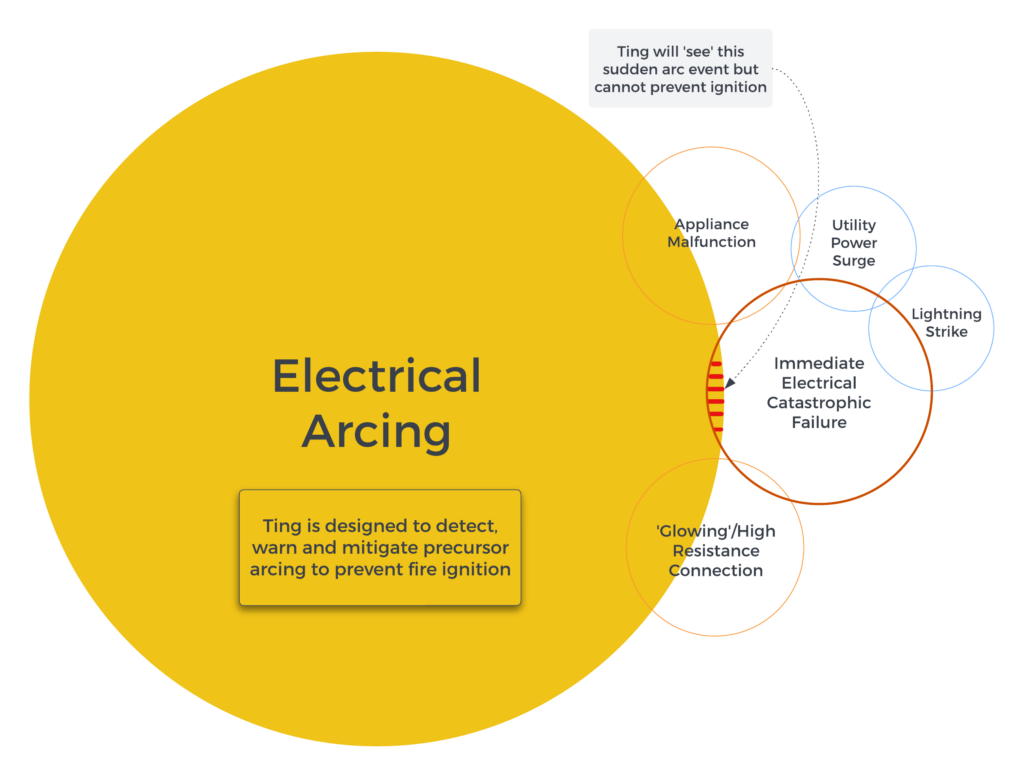 You'll notice in the image that the causes overlap. For appliance malfunctions and glowing/high resistance situations, a portion of these conditions generates precursor arcing that Ting is designed to detect and warn on.
In contrast, for the causes outside of the large yellow 'electrical arcing' bubble, you'll notice an overlap with the 'immediate electrical catastrophic failure' bubble. For example, extreme heat near combustible materials can ignite a fire without producing any electrical arcing. This same condition can instead lead to an immediate catastrophic electrical failure that, in turn, ignites a fire.

Lightning strikes. A direct lightning strike, and even a strike near the home, could send a power surge into a home and instantaneously start a fire. Even if your Ting Sensor were still operating and not ruined or knocked offline by the lightning strike itself (like many devices would be), Ting would have no time to warn a homeowner to prevent such an imminent fire.

Immediate and catastrophic electrical failures. While relatively rare, some electrical components can experience sudden and catastrophic failures that ignite fires quickly. Since Ting is a long-term monitoring solution, it is not designed to warn against fire hazards that develop very quickly.


Some "glowing" connections. An electrical failure mode known as a "glowing" connection can develop when an electrical connection loosens, resulting in a 'high resistance' connection. This high resistance generates extreme heat that can cause a fire. Glowing connections often – but not always – produce periodic but brief arcing activity, which Ting can detect. Because Ting is designed to detect arcing, glowing connections that do not produce arcing signals will not be detected by Ting.

Old, poorly maintained, or defective appliances. Appliances with motors or compressors that are aging, faulty, or not well-maintained/cleaned can lead to situations where they draw more energy than normal when operating (but within the limits of the circuit it is plugged into, so the breaker does not trip), and/or do not 'cycle' normally. In some cases, these conditions may also include arcing, and Ting detects and alerts on that. In other cases, however, no arcing is generated, and the appliance being 'overworked' leads to overheating – especially if the appliance does not have thermal protection built into it. This extreme elevation in temperature can ignite nearby materials – or can cause a sudden catastrophic failure in nearby wiring (without warning and without precursor signals) which can also ignite a fire. Importantly, past maintenance issues, appliance sounds, on/off patterns, and smells can signal an issue well before this overheating occurs. Here's a quick guide to how to identify earlier signs of conditions or issues that might spark a fire.
---
Importantly, Ting is a "learning" system, and we're proud of Ting's performance and the tremendous impact it has had. We are passionate about preventing as many fires as possible – and we are staunchly committed to striving and pushing our innovative technology and service delivery to achieve that objective. But we can't do it alone – it takes a village! Stay in tune with your home, and be aware of common signs that might indicate an electrical fire hazard.