Our Customer Care Team is here for you should you have a question or issue with your service.
If you have a question about installation or need help installing, click here.
The easiest way to contact our Customer Care Team is by emailing us from within the app itself:  Menu > Help > Send Email to Support (see below).
Alternately, you can fill out this simple form.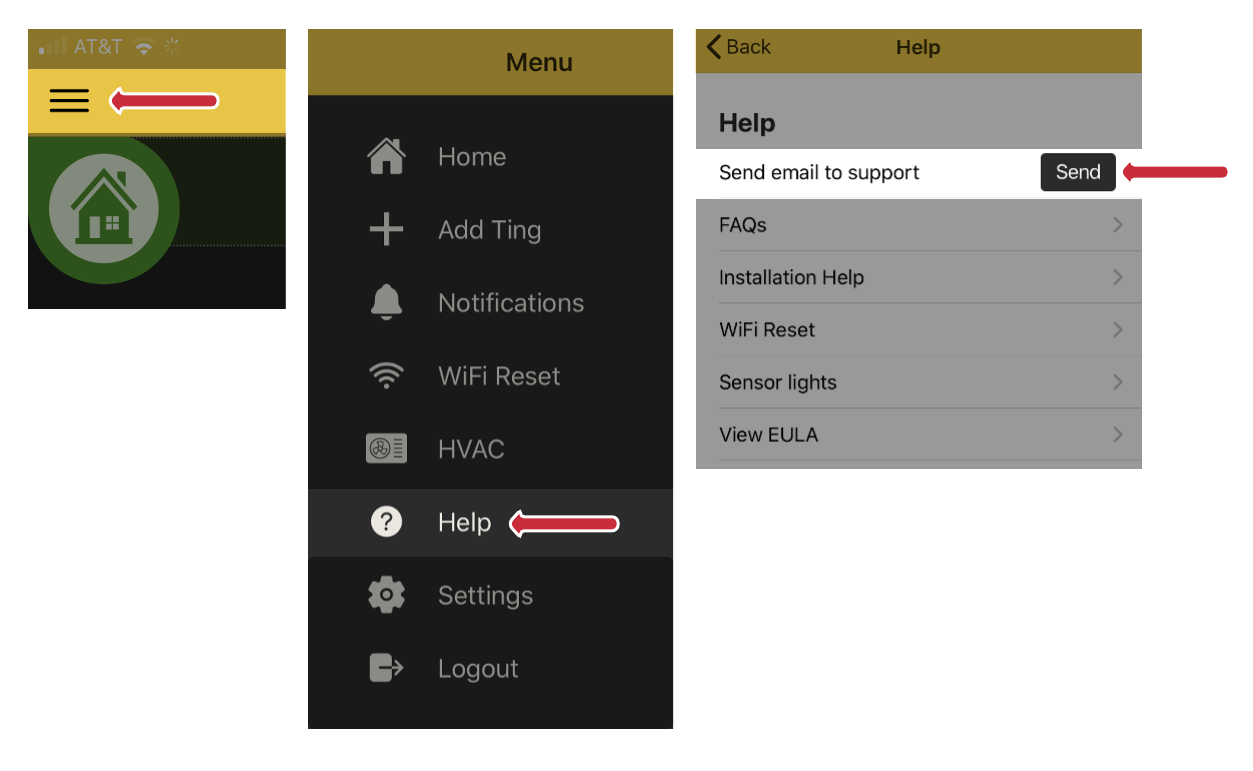 Each Ting Sensor comes with a quick start card and a user manual.  After removing the sensor from the box, lift up the plastic insert.  The user manual is located underneath it.
Need a version with larger font, or need to download the manual?  You can do so here.  Below is a quick view of what you can do with the online version.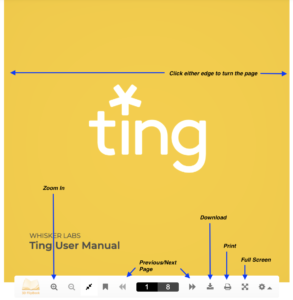 Do-It-Yourself (DIY) Installation
Yes. Our Ting sensor has been rigorously tested with the following important industry safety certifications:
UL Certified*, United States & Canada
Federal Communications Commission (FCC) Approved

*The Ting sensor is UL listed.  UL stands for Underwriters' Laboratories, a global safety science company and the largest and oldest independent testing laboratory in the United States.  The UL seal means the Ting sensor has been investigated by UL to nationally recognized safety and sustainability standards, which include risk of fire, shock, and injury to persons.  UL does not investigate Ting's efficacy or performance.
Internet Service & In-Home Wi-Fi
Utility companies deliver voltage to U.S. homes at an average of 120V, but normal ranges can be from 108V to 132V.
Ting monitors the electricity in your home 30 million times every second of every day. This allows Ting to analyze the quality of power delivered to your home at super high resolution. Power quality problems can potentially cause damage to appliances, electronics, or other devices in your home.
The power delivered to your home is typically supplied at 120 volts (V), +/- 10%, so the normal range can be from 108V to 132V. The most common power quality problems are:
Surges: events when voltage spikes to values >132V. The severity of a surge is determined by both the amplitude of the spike (how high did the voltage go), and the time duration of the spike.
Brownouts (sometimes referred to as sags): events when the voltage drops below 108V. The severity of a brownout is determined by both the amplitude of the drop or sag (how low did the voltage go), and the time duration of the drop.
In many cases, a single power quality event, or problem, will not necessarily cause damage (depending on the severity), but an accumulation of power quality problems can lead to damage to important devices in your home.
If you are experiencing ongoing power quality events as reported by Ting, you may consider contacting your utility, which supplies your power, to let them know of the problems that you and possibly your neighbors are experiencing. You can use your Ting Home Monitoring Reports as support.
We've provided additional information here and an email template that you can use to be in touch with your utility. You'll also see a list of sources where you can learn more information about power quality, and steps that you can take to help prevent damage to your devices.
Yes, Ting will work on generator power.  In fact, for homes with a built-in backup generator, Ting will notify you should you lose power and generator power comes on. Note, however, that your internet modem/router and Ting Sensor should be on a circuit that the generator will power in case of a utility power outage.
Utility Power Outage.  With a utility power outage, your generator will switch on. There is typically a slight delay between the loss of utility power and the startup of the generator. Your Ting Sensor may temporarily lose power or connectivity during this brief delay, and your Ting Sensor app will notify you of such.
Generator Power On.  Subsequently, once the generator has started and is feeding power to your home electrical system, Ting will notify you that generator power is in use. How so?  Utility and generator power are essentially 'the same' but vary regarding subtle characteristics such as frequency and harmonic distortion. Ting is designed for discerning slight variations in these power characteristics and can identify when generator power is fed into the home.
Utility Power Restoration.  When utility power is restored, and your backup generator is no longer feeding your home, Ting will generate notifications that utility power has been restored and generator power is no longer on.
Test Mode.  Note that most home generators, when running in "test" mode, don't transfer power to the home, so in this situation, you will not receive a notice from Ting that generator power is 'on.'
There is no difference. The latest sensor has the same hazard detection and fire safety functionality as previous generations.
One small form factor change on the new sensor: the older design included an internal reset button accessed by a paper clip, this has been replaced with an external user-friendly button on the left side of the sensor.
Notifications must be enabled on your phone for the Ting App to receive push notifications. This is typically is enabled in the "Settings" area of your smartphone.
This feature is coming soon.
Open your Ting app and click on the upper left bars to open the main menu.
Select Settings.
Scroll down to the sensor you would like to rename and click on the gear icon.
Enter the name you would like to have displayed on your app and in your weekly emails.
Scroll down and click Save and Continue.
Electrical fires are typically caused by damaged and/or loose wires, or faulty appliances or devices. These hazards can be insidious and often hidden from view inside of walls and ceilings, and these fires can start in the middle of the night or when nobody is home. Electrical fires are often the most devastating type of house fire. Click here to learn more.
A recent report by the National Fire Protection Association (NFPA) highlighted staggering facts related to home electrical fires:
Arcing was the heat source in approximately three of five home fires involving an electrical failure or malfunction
Fires involving electrical failures or malfunctions accounted for the highest share of civilian deaths (18%) and direct property damage (20%)
Approximately one-quarter (24%) of these fires occurred between midnight and 8 a.m., but these fires accounted for 60% of deaths.
This report can be found here.
Online:  Ting can be purchased directly from us at Whisker Labs, at tingfire.com.
Through Insurance Companies:  Many customers receive Ting from their insurance company, which may provide Ting at no cost to their policyholders. If your policy is eligible and you've enrolled in such a program, please be assured that you will not be billed or charged for Ting. Please contact your insurance company with any questions about their Ting program.
No.  Ting is a service (which includes a sensor) and can only be acquired from authorized resellers and partners.
Ting is sold and distributed as a bundled service (the 'Ting Service') which includes a sensor, service subscription, and service activation.
Ting Service and any component of the Ting Service are non-transferrable. The service subscription is bound and authenticated by the Ting Sensor serial number which is tracked to ensure authenticity for our customers. Each Ting Sensor remains the property of Whisker Labs and is never sold by itself.
Marketplaces such as Amazon, Facebook, eBay*, and others are NOT authorized to resell Ting. A Ting sensor acquired from unauthorized sellers cannot be activated for Ting Service; if you errantly purchase a sensor from an unauthorized seller, please refer to their customer policies regarding sales of unauthorized items. More details can be found in our Customer Policies here.