Imagine for a moment if powering your devices and appliances required water instead of electricity. Sure it sounds silly, but bear with me. That would be a lot of hoses, along with a lot of worry about pinhole leaks, crimping, and loose connections. Yet, a water leak is not likely to result in fire, serious injury, or death. An electrical leak on the other hand – well, you get the point.
This begs the question, why do we tend to treat device electrical cords so poorly? We have a few theories, but we won't attempt to provide an answer here. Rather, we've curated some simple reminders about using them properly to help keep your family and home safe.
---
Handling Cords Safely
The number one safety rule regarding device power cords – never pull or yank a plug out of an outlet by the cord.
DO use a firm grip on the plug end, not the cord, when plugging in and unplugging.
Don't wrap the cord around a device in such a way where it strains the connection at the device.
If reaching an outlet causes strain on the plug or at the device end, find another outlet or a safe way to reach it with an extension cord (see these extension cord safety tips from ESFI).
---
Routing Cords Properly
Keep power cords clear of high foot traffic areas.
Don't let cords dangle from tables or counters where a hand, arm or leg could get caught.
Don't place cords under rugs, and don't place anything on top of cords such as laundry or furniture.
---
'Dressing and Stowing' Cords
Lay out extra slack in cords safely, such as along counters, baseboards.
Don't coil extra slack from longer cords near upholstered furniture or curtains.
Don't crimp, bend or bunch cords into tight spaces.
When using cable ties to keep them in place, don't bundle cords together; and never use staples!
---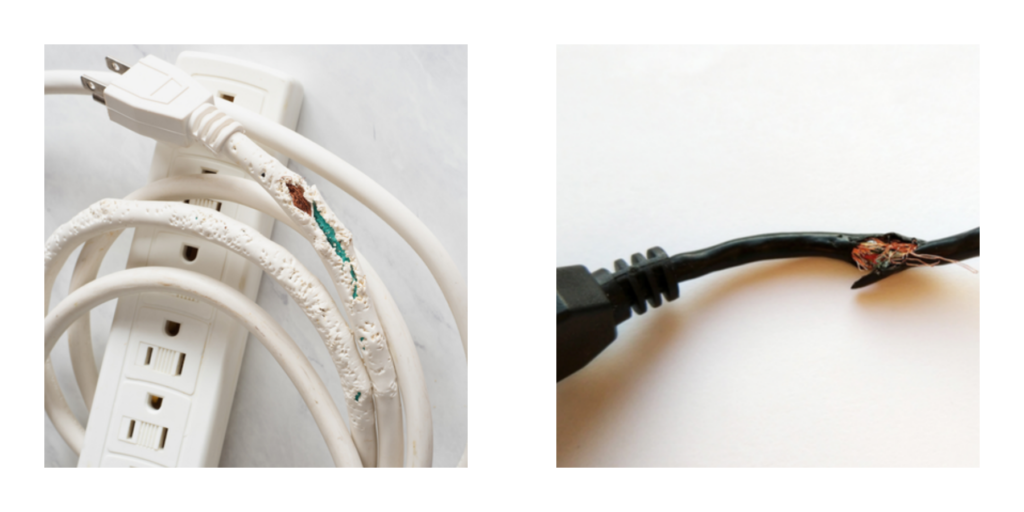 Regular Cord Inspections
It takes a few seconds but we rarely do it. Make it a habit!
For devices where frequent plugging and unplugging is common – such as vacuum cleaners – periodically inspect the plug and cord for cracks, unusual wear, or damage.
If a plug is hot to the touch (warm is normally ok under use), unplug the device and don't use.
If the plug end appears scortched, or the posts are bent, discontinue use.
If you have pets that like to chew on things, be sure to check 'accessible' cords for damage (see image above!).
Assuming your outlet is good, if a plug droops away from the outlet and won't stay firmly plugged in, the cord may be at the end of its useful life. Loose plug-to-outlet connections can result in a fire hazard – keep them snug, or unplug!
---
What About Extension Cords? That's a much broader yet very important safety topic that demands its own article. We'll cover those and related 'power extension items' such as power strips in a future journal post. In the meantime, you can find extension cord safety tips here.