A reliable electrical grid is critically essential. The U.S. electrical grid saw its first expansion in major cities in the late 1800s. It's a complex system that continues to expand and age. In this article, we share some fascinating facts about one of our most relied-upon resources, and how it touches your home.
---
The Electrical Grid is a Marvel
Regular maintenance is needed for any system to maintain safe conditions. Without proactive maintenance, safety and the serviceable life are severely diminished. This couldn't be more true – and relevant – for the U.S. electrical grid.
The U.S. electrical grid is the largest interconnected machine on Earth: 200,000 miles of high-voltage transmission lines and 5.5 million miles of local distribution lines, linking thousands of generating plants to factories, homes, and businesses.

– Scientific American
Add to this massive responsibility an ever-increasing number of electrified devices, including the increasing adoption of electric vehicles. We continue to demand more from the grid. Plus, solar systems and other technologies are adding additional complexity. It's a lot of infrastructure, and a lot of responsibility, for sure.
How Complex is the Grid?
The grid connects 145 million homes and businesses throughout the country. But how does it actually reach our homes? After a centralized power plant generates electricity, it needs to travel to the end-user. A simplified version of this journey happens in three steps
Transmission. Centralized power plants produce high-voltage electricity to facilitate movement over long distances. High-voltage transmission lines conduct electricity to a substation.
Substation. Substations are used to condition electricity as it moves through the grid. Substations can either "step-down" or "step-up" voltage in preparation for further transmission or distribution to end-users.
Distribution. This last stage comprises lower voltage power lines that deliver electricity to end-users and is the most extensive portion of the overall electrical grid.

Maintaining the Grid is a Formidable Task
No matter the age or location of a home, power quality issues can and do occur – and in some cases, right under our noses with no outward signs of issues.
Delivering power reliably to our homes is not easy. Some perspective on how hard it truly is: the U.S. power grid is expansive, relatively old, and complex. It includes:
Over 7,300 power plants
Nearly 200,000 miles of high-voltage power lines
Several million miles of low-voltage power lines
Millions of distribution transformers
3,300 utility companies are responsible for the electrical utility grid's care and maintenance
* Statistics from the U.S. Energy Information Administration
Even as systems, appliances, and devices become more efficient, the growth continues: we are connecting more and more of them to our electrical systems each day. Preventive and proactive power quality and electrical fire safety remain underserved goals. Ting is helping by detecting and identifying power quality issues as they occur – both outages and other quality issues that are not as apparent to homeowners.
The Critical 'Last Mile'
Distribution transformers – or simply 'transformers' – are special electrical components designed to help move electricity along the grid. The most numerous types of transformers are the ones in your community – they are the final point of voltage 'step down' before electricity reaches your home. Depending on your neighborhood's layout and the location of your home, a transformer can serve 3 or 4 houses. For remote areas where homes are further apart, a single transformer may serve an individual property. As mentioned earlier, that adds up to millions of transformers.
In the U.S. alone, analysts say the average age of a transformer on the grid is 35 years old, near the end of its typical lifecycle. Under ideal conditions, transformers are expected to operate for 30 to 40 years, while larger industrial transformers have a life expectancy of just 20 to 25 years.

Power Magazine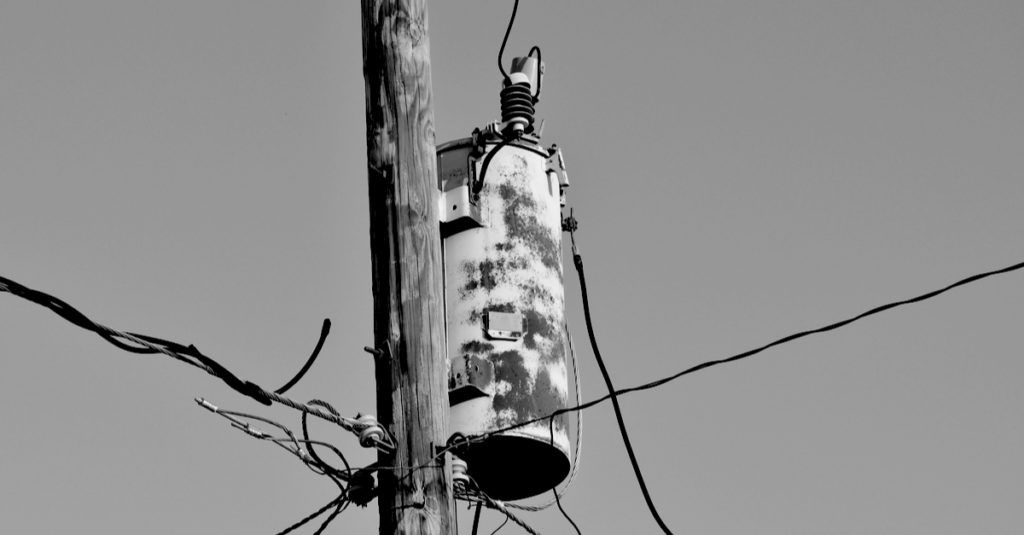 For some of us, local distribution lines are underground or at ground level. If this is true for your neighborhood, the transformer that serves your home will be on the ground – in a locked protective enclosure (also known as a 'pad-mount' transformer). Otherwise, you'll typically find the transformer up on a utility pole (also known as a 'pole-mount' transformer).
Why it Matters. When transformers work well, we don't notice them. It's a different story when they begin to experience issues and fail to operate correctly, or simply fail outright. These faults can cause safety issues, fire hazards, and damage to devices inside your home. Worse, they have the potential to ignite a wildfire in prone communities. Ting has detected thousands of faults related to transformer health issues and wiring connections to their home and has helped homeowners proactively address them with their electric utility provider and ensure remediation happens to clear the hazard.
Be sure to check out our follow-on article where we cover common transformer problems and how these problems can impact your home and the homes around you.
---
Prevention and awareness are key to a homeowner's goal of protecting family and home. That's why we developed Ting: to provide you with a simple way to employ the most significant advancement in electrical 'awareness' and fire safety for the home. It's like having an electrician watching over your home 24×7.