Customer feedback is what fuels us at Whisker Labs. We may have some of the brightest scientific minds, and a uniquely authentic reason for wanting to eradicate electrical fires. But it is our customers who give meaning to where we are today; they singularly help shape how we speak about this difficult problem of electrical fires, and how Ting is designed to meet it head-on.
It doesn't have to be that complex
And with that, we recognize that electricity is a mystery to most people. This should not be a surprise to anyone. Despite its tremendous impact on history and society, electricity is not a popular topic. And it can get very complex very quickly. Those of us who enjoy a strong understanding of the subject are often challenged with bringing simplicity into the fray when explaining it.
Admittedly, we are thrilled when experts and licensed professionals alike engage in conversations about how Ting 'really works'. But we need to do a better job of translating those types of conversations to a broader audience. Consider it a 'side mission' of ours.
If you missed it, we published a quick overview of electricity for homeowners some time ago. We'll be expanding on that in the near future, covering what happens with electricity before it reaches your home (and after it leaves you home).
Now back to the subject of customer feedback: How exactly does this help us on our 'side' mission to help with education and understanding? Simply, we needed to establish a baseline, a starting point. What better place to start than our customers?
Specifically, we solicited feedback from thousands of customers regarding their understanding of what types of faults and hazards Ting regularly detects. The response was tremendous. We'll continue to seek guidance like this – and to shape content for all customers, current, and future. For now, let's look at the results.
What does Ting detect?
The prompt: Based on your understanding, what types of electrical issues and fire hazards can Ting detect across your home? We instructed customers to select as many as they felt were 'correct'. Here's what they had to say.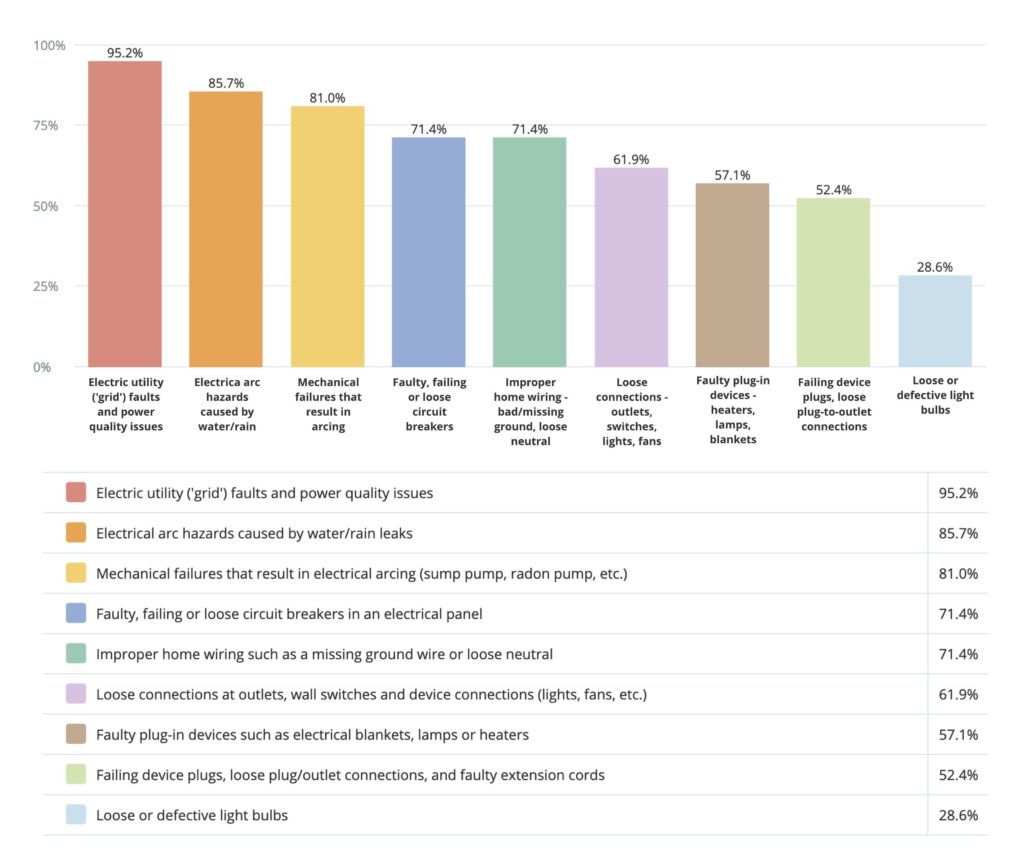 What do you think?
Well, the right answer is, all of them. And naturally, we were hoping to see responses of 100% across every category. But we'll get there together! What is common across all of the above categories: Ting helps prevent fires by detecting silent and often hidden issues that left to themselves grow into larger hazards over time – and can lead to a fire.
It is important to mention here, however, that no technology is 100% effective at detection (not even smoke detectors – but keep them operating and with fresh batteries!). What is 100% certain is that every tiny electrical anomaly transmits faint but unique signals – and Ting is 'expert' at detecting these signals and distinguishing them from normal everyday signals generated by switches, motors, and other mechanical devices.
And if you're wondering how Ting does it, here's a short video with our lead scientist explaining what is happening with electrical fire hazards at a truly 'tiny' level, early in their development.
We'll get more into what these hazards look like later, including what other signals they may send that can tip us off to an issue, and how Ting actually detects them.
Be safe, be well!