They're very convenient, so it's no surprise that extension cords are popular. While they can help deliver power where we need it, they can often get us into trouble. Understanding how to use them properly helps maximize your safety and minimize the risk of an electrical issue, shock hazard, or fire.
---
Extension Cords are Ubiquitous
Electricity is a complex phenomenon. When your home was built, the electrical system was carefully designed to safely meet and anticipate some increase in electrical demand. The older the home, the more likely renovation work or upgrades have been performed over the years (hopefully all up to code when they were performed!).
Yet we are plugging more devices into our electrical system than ever before, and as a result, extension cord usage continues to be popular (and power strips and outlet extenders as well). Many argue that extension cords should never be used permanently. While we agree with this position, it's not always practical. Even in a modern home, there's still that table lamp that just can't reach the outlet based on the room design/furniture layout.
So, let common sense prevail.
---
The Fundamentals
It is worthwhile to get familiar with a few fundamentals regarding device 'specifications' and your electrical system. We won't cover every detail, but essentially, device user manuals and labeling provide key operating information, such as voltage rating and amperage (how much electricity is drawn by the device as it operates).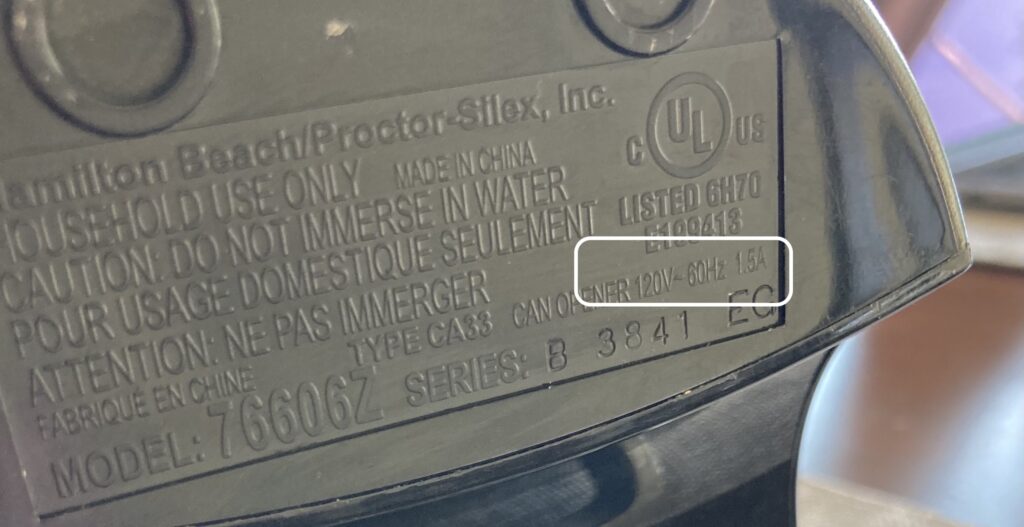 Tip: For each device plugged into outlets on a given circuit, you'll need to add up the total number of amps that the devices would potentially require if all powered on at once.
The home circuits that serve your power outlets (aka receptacles) are rated for their specific location and purpose. This generally varies for general use outlets.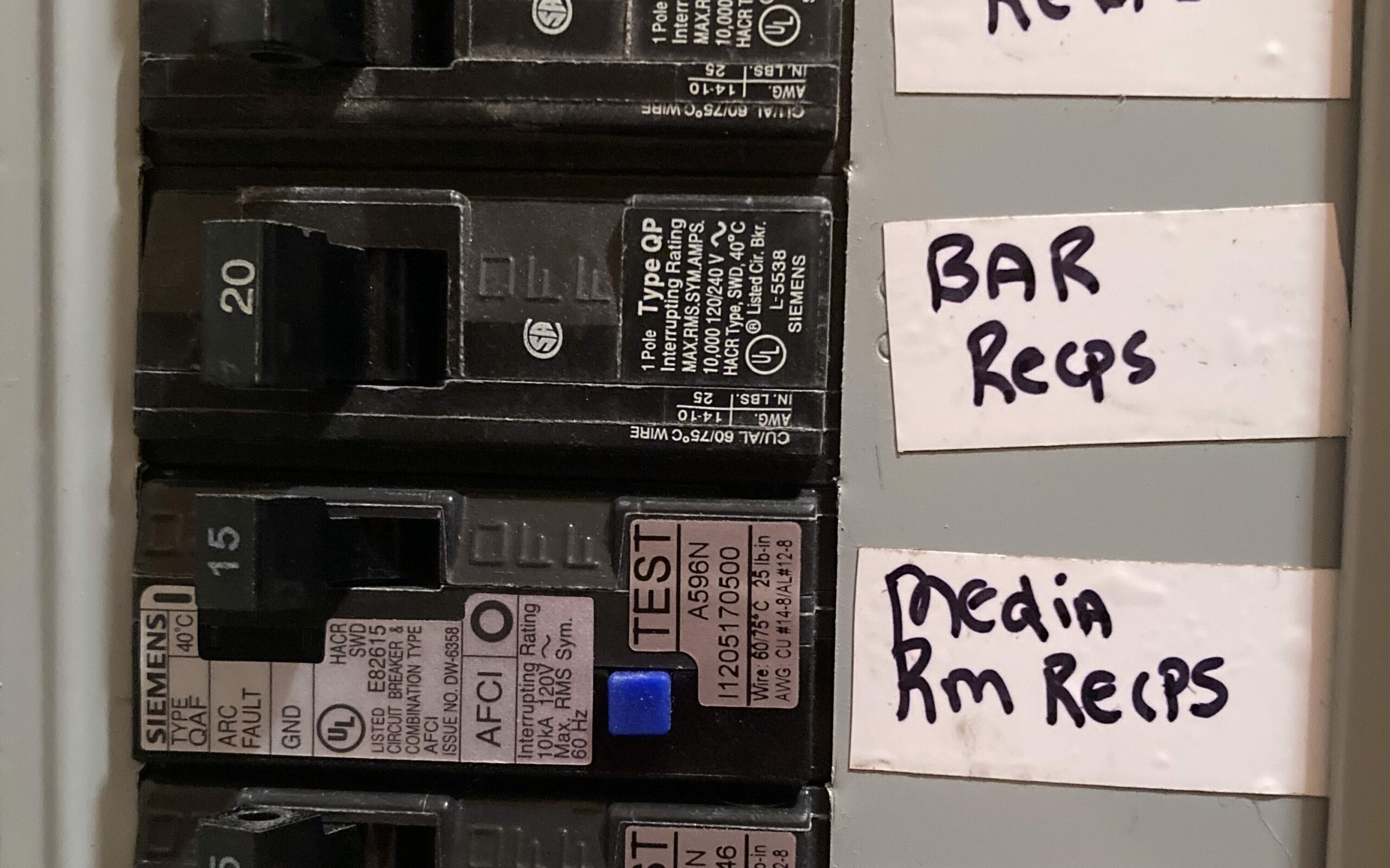 Circuits serving general use outlets are typically rated for 15 amps, and those in the kitchen, bathroom, garage, or workshop can be rated at 20 amps. A word of caution, though: the age of the home and codes at that time, renovation history, and many other factors play into this. So, if you're not absolutely sure, assume the circuit that serves your outlet is rated at 15 amps.*
*If you believe you need a 20 amp circuit for what you plan to plug in but aren't sure what you have in place, check with a licensed electrician.
With this fundamental information, you'll be in a better position to know if your extension cord is sufficient for a given task or if a breaker might trip by placing too much demand on a circuit.
---
The Right Extension Cord for the Job
When it comes to extension cord sizing/rating, it's not just about the wire thickness (aka 'gauge'), but also length. Longer cords require thicker gauges for a given load. A cord that can handle 15 amps 50 feet away will need to be thicker if you seek to safely support the same 15 amps 100 feet away. (We've included a link below where you can find more information on this topic.)
Tip: Thicker gauges are actually represented by lower numbers, e.g., 10 gauge is thicker than 12, 14, and 16 gauge. Thicker gauges hold a higher rating and can handle more device load.
A Common Extension Cord Mistake
Your home wiring and its breakers are designed to protect you from overloading circuits that bring electricity to normal points of use (outlets). However, those breakers can't effectively protect against 'overload' conditions beyond the outlet when using an extension cord unless the cord is properly sized for the job. If the extension cord is undersized, it can fail and result in a dangerous fire hazard well before the circuit breaker in your panel ever has a chance to trip and cut off power.
>> "My extension cord caught fire – why didn't the circuit breaker trip?"
Imagine for a moment a device needing 12 amps to operate is connected to an extension cord rated for 10 amps. In turn, that extension cord is plugged into a 15-amp circuit. Basic math tells us the extension cord will be overtaxed – which can easily result in overheating that can melt the cord and ignite combustible materials nearby. Here's the important part – this hazardous hi-heat condition develops before drawing enough current to trip the 15-amp breaker that protects the circuit.
Importantly, fires of this nature are not due to electrical sparking but to improper use of an extension cord and the excessive heat generated – and is unfortunately not detectable, even by Ting*. Note that the same concept holds true for outlet extenders and power strips – be aware of their rating and the devices you plug into them.
---
*if arcing happens to occur in this scenario, which could happen if the extension cord is older or damaged, Ting IS designed to detect this arcing condition.
Extension Cords Aren't for All Devices
Some appliances should simply not be used with extension cords – be sure to review the user manual, which will usually provide a warning of this. Using an extension cord with these appliances can lead to excessive heat and potential fire ignition, not to mention excessive voltage drops, which can damage the appliance, especially if it relies on a condenser, motor, or pump. Examples include hair dryers, space heaters, microwaves, and the like.
---
Take Extra Care Outdoors
For outdoor applications, ensure your extension cord is rated for outdoor use, and plug it into a GFCI-protected outlet. Ensure your outdoor outlets are in good shape and protected from weather, and hold your extension cord well (no sagging out of the outlet). Weather and UV rays can damage cords over time, which is another reason they should not be used for permanently extending power to an outdoor location. Also, don't run your extension cord in snow or through water, or secure them with staples or zip ties. Finally, if you find yourself in constant need of an extension cord to provide power to the same location on your property, it's time to consider extending an outdoor circuit from your home's electrical system.
---
Other Extension Cord Safety Tips
Take a quick minute to inspect your extension cords before each use. They can be workhorses for us, and with heavy use, they can deteriorate or become damaged over time. Using a damaged extension cord can lead to electrical sparking and fire or to a shock hazard. Ting has identified arcing from several common extension cord issues, including cracking, cuts, and water infiltration.
Don't run extension cords under carpet or other materials, as heat can build to excessive levels without exceeding the cord's rating. Similarly, if you're using a long cord for a device that requires a lot of power, be sure to unwind/uncoil the cord, as excessive heat can build up otherwise.
Keep extension cords away from foot traffic; they can easily present a tripping hazard.
Don't connect extension cords to…an extension cord. You are better off using a cord of proper length and gauge required for your application instead of 'daisy-chaining' them together.
We've covered the basics. If you're interested in more detail (and we're thrilled if you are), the Electrical Safety Foundation International (ESFI) offers additional tips for staying safe from electric shock and electrical fires when using extension cords, click here for more information.
---
In Conclusion
Extension cords can be incredibly convenient for us, extending electricity to where we need it. However, it is not a substitute for upgrading your electrical system. If you find yourself without enough outlets or an increasing reliance on extension cords or power strips, it's probably time to call a professional and upgrade your electrical system.
Related articles:
Be Kind to Your Cords