Electrical fires are insidious and can arise at any time, from any number of causes, and without warning. Since the beginning of electrification in the late 19th century, preventing electrical fires has been challenging (which motivated us to develop a new approach to this old problem).
Yet, our focus with this post is not the technical aspect of electrical fire ignitions. Rather, we provide a framework for thinking about the numerous sources and root causes of ignitions. We break these down into three primary areas, which we hope will help shape your thinking about what to look for, where fire risk might be elevated, and what measures to take to minimize that risk.
---
Electrical Fire Risks
It is easiest to think about electrical fire risks by root cause location, or by the primary driver of a hazard. It is important to note that a root cause can be different from the location of a fire ignition (example, a utility power surge, a root cause from outside the home, sparking and igniting a wall outlet inside the home). In some cases, the confluence of more than one factor may lead to ignition.
With this in mind, we present a 3-part framework when thinking about electrical fire risks:
Home electrical infrastructure
Devices and appliances connected to home electrical infrastructure
The electrical utility supply to home electrical infrastructure…and everything connected to it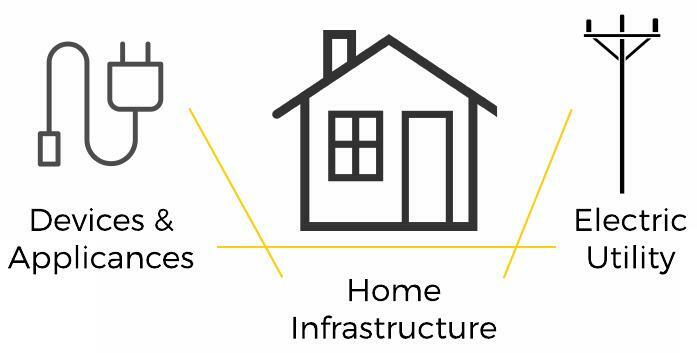 While we speak about each of these areas below, it is important to remember that they are interrelated when it comes to relative fire risk. A new quality device plugged into a sturdy, newer outlet that is not over-taxed, with good quality power from the utility = very low risk. In contrast, a poorly-maintained or low-quality device plugged into an older or over-taxed outlet and then fed poor power = increased risk.
---
Electrical Fire Risk from Home Electrical Infrastructure
'Electrical Infrastructure' can be thought of as everything from your side of the utility meter, running to the main panel, and the many branches and paths of wiring from there. This includes interconnections and 'endpoints' – switches, outlets, and 'hard-wired' connections to major systems and light fixtures. Part of your home's anatomy, or 'skeleton,' if you will. Most of us traditionally think about a home's electrical infrastructure when it comes to electrical fires in the home, especially in older homes.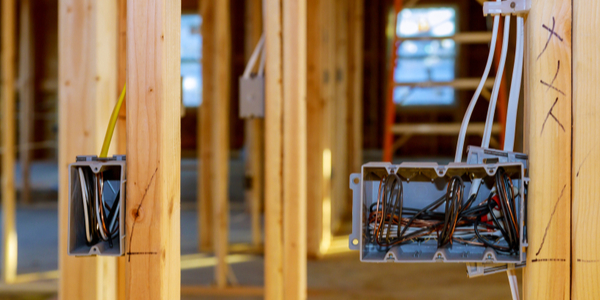 This infrastructure tends to stay intact over time. Yet vibration, temperature variations, exposure to extreme conditions, and usage can conspire to reduce its useful life. Electrical fires can ignite from loose connections at outlets or hard-wired devices, poor breaker connections and the main panel, compromised insulators in wiring, and water infiltration.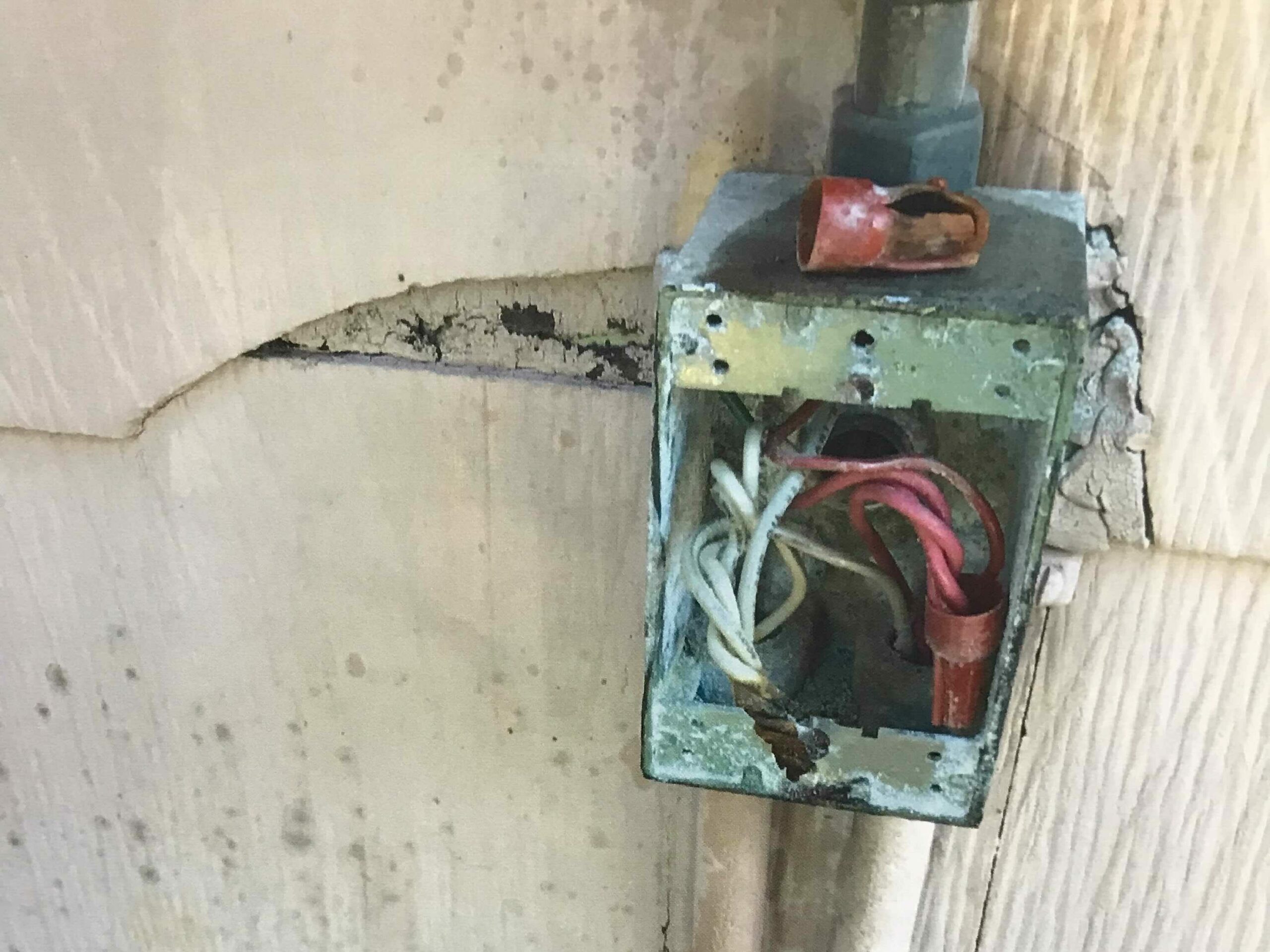 Aside from general aging, it is important to consider when a home was built (or when it was renovated) and also, how it has been used and maintained. Unfortunately, this is often hard to know. When it comes to construction, inconsistent installation practices, shortcuts, poor craftsmanship, and lax inspection can create conditions that lead to premature failure. Additionally, invisible damage to insulators can occur during installation, e.g., tiny nicks from poor stapling – or even a conductor errantly smacked with a hammer but not showing signs of visible damage. This can lead to tiny arcing over time, simmering, advancing to stronger arcing over time, and a fire.
When your home was built or renovated matters as well. Materials used (aluminum vs. copper) and electrical codes at the time can factor into risk.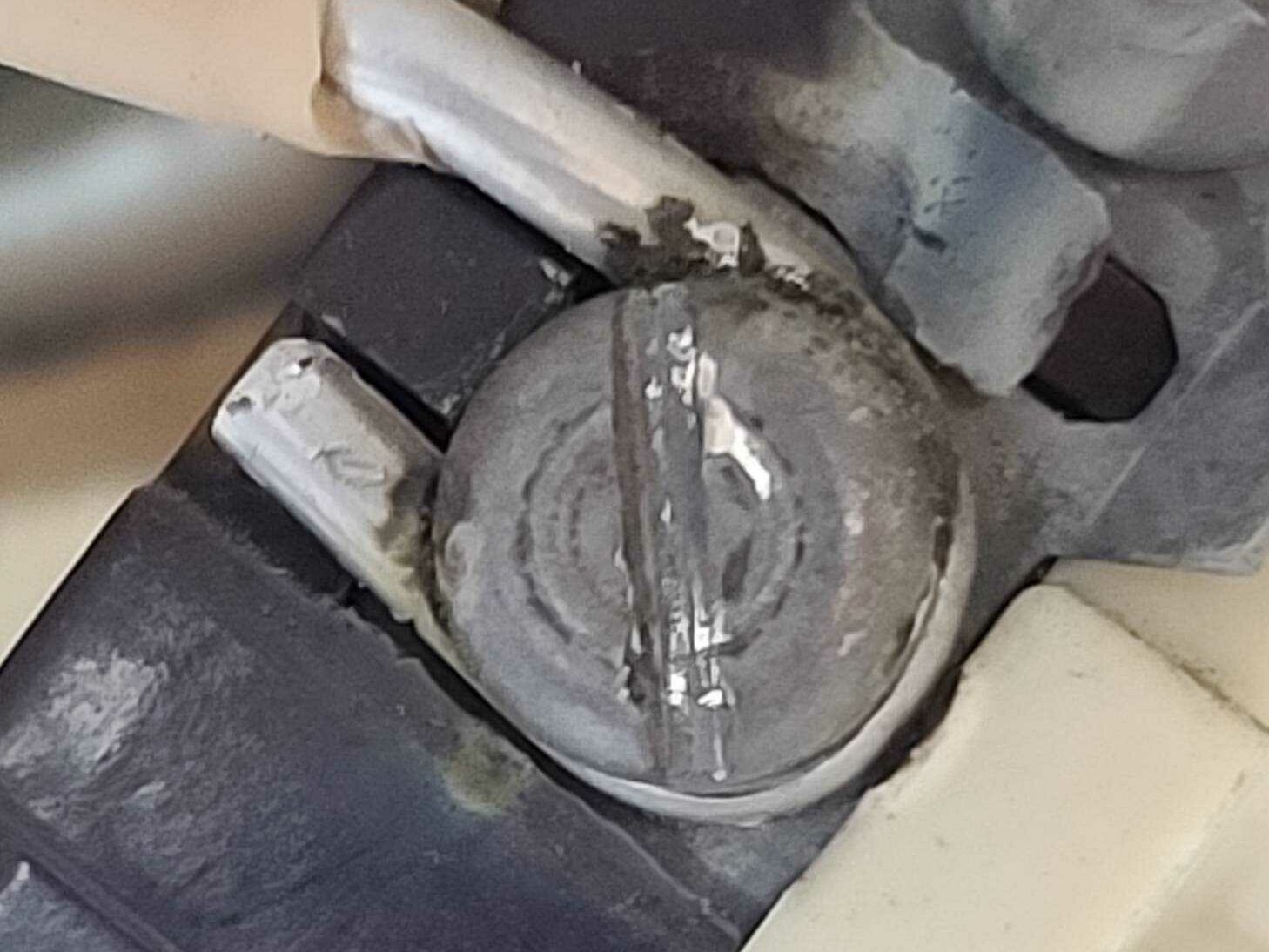 Finally, how we use electrical infrastructure can influence aging and the onset of hazardous arcing. How often each branch, connection, or endpoint is used, how much amperage is drawn during that use, and for how long. A well-constructed home that has been well-maintained will provide a long, safe service life, all other factors being equal. However, a home that has not been well-constructed and not well-maintained can be at increased risk, accelerating or exacerbating existing compromised poor connections or invisible insulator damage when power is drawn through it.
For example, drawing a lot of current through a circuit to power a portable heater can stress conductors, their insulators, and connections along that path if they have been prior damaged or compromised in any way; they are more susceptible to an electrical fire hazard developing as more 'demand' is created by a device.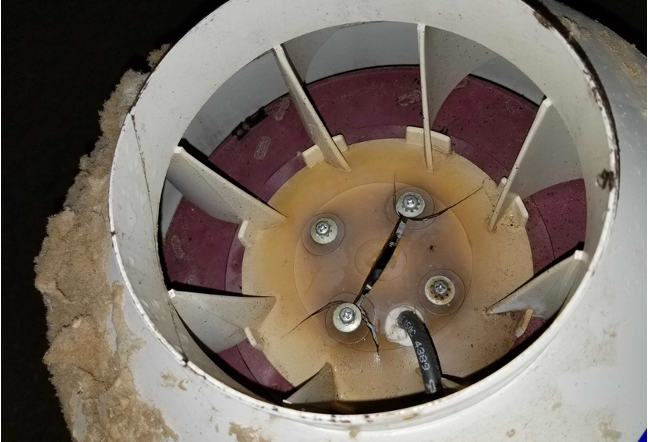 Past events. There are other extreme events a home may have been exposed to in the past that may have impacted its electrical infrastructure. For example, homes that have had a serious flooding event, or struck by lightning, are more susceptible to electrical fires than homes that have not experienced either type of event.
The takeaway. Regardless of age, it is hard to know the health of what you can't physically see with any certainty. What is generally true is the older the home, the harder it is to know its history, especially relative to its hidden infrastructure. In comparison, the history of newer homes is shorter and likely well-known. Plus, newer homes are less likely to have hazardous conditions normally stemming from the effects of aging or use. Finally, newer homes are more likely to be more up to date when it comes to electrical codes, which are improved and modernized over time. The exception here is where an older home has been updated and brought 'up to code.'
---
Electrical Fire Risk from Connected Devices & Appliances
Next, we move beyond electrical infrastructure. Anything we plug into an outlet either runs on electricity itself or extends electricity to something that does. This is one of the two areas where home age has much less influence relative to electrical fire ignition. The age, quality, condition, and usage of what is plugged in matters most here. Consequently, it is this area where we have more influence over the risk of electrical fires. Namely, what we buy (is it cheaply built or without approvals such as UL), how we treat a device or appliance, where we plug it in, how often we inspect it, how frequently we use it – and how long, and how we maintain it – all factor in.
Extension cords, power strips, devices, lamps, chargers, sump pumps, and appliances (we'll call them 'devices' for simplicity) are extensions of the electrical system in your home. They are susceptible to electrical fire hazards and, consequently, electrical fires. Compared to your home's electrical infrastructure – which is largely hidden from view and remains static over time – devices are typically visible and are replaced much more frequently.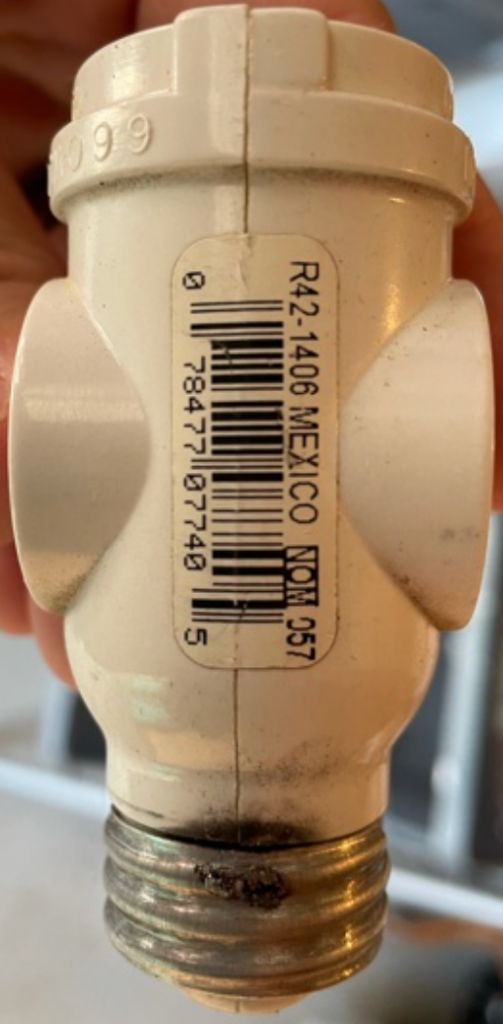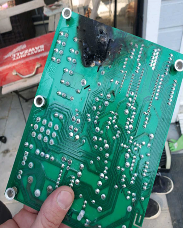 Electrical fires can ignite from worn insulators on power cords, a faulty plug, and various faults or failures inside a device, and can be influenced by age, quality, use environmental conditions. Ting has identified electrical fire hazards across the full spectrum: portable heaters, fish tank heaters, outdoor lights, holiday decorations, extension cords, power strips, dehumidifiers, electric blankets, laptop chargers, phone chargers, table lamps, window air conditioners, sump pumps, refrigerators, washers, dryers, toasters, garage door openers, smart switches, light bulbs, and microwaves.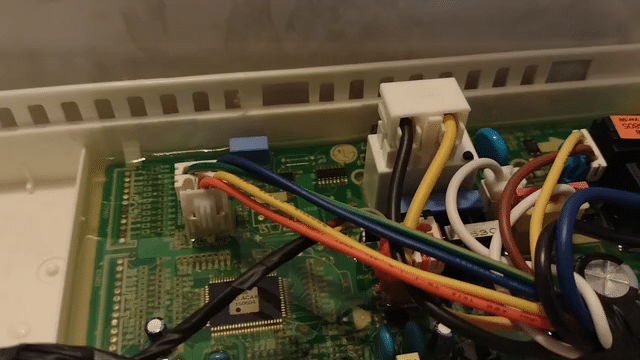 It is important to note that even a new, high-quality device or appliance – plugged into a new, clean outlet – can still present a fire risk if the device does not have a good connection to the home's electrical system – meaning, the plug is not snugly mated to the outlet. Be sure the plug end is pushed all the way into the outlet, and that it does not 'sag out'. Be sure to check the plug periodically and ensure it is 'snug'.
---
Electrical Fire Risk from Poor Power Quality
Earlier we mentioned that how we use electrical infrastructure can influence the risk of electrical fire hazards. Now layer in yet another factor that can come into play: poor power quality. It is this 3rd area that has traditionally been the most 'mysterious' to homeowners, not to mention largely outside of their control.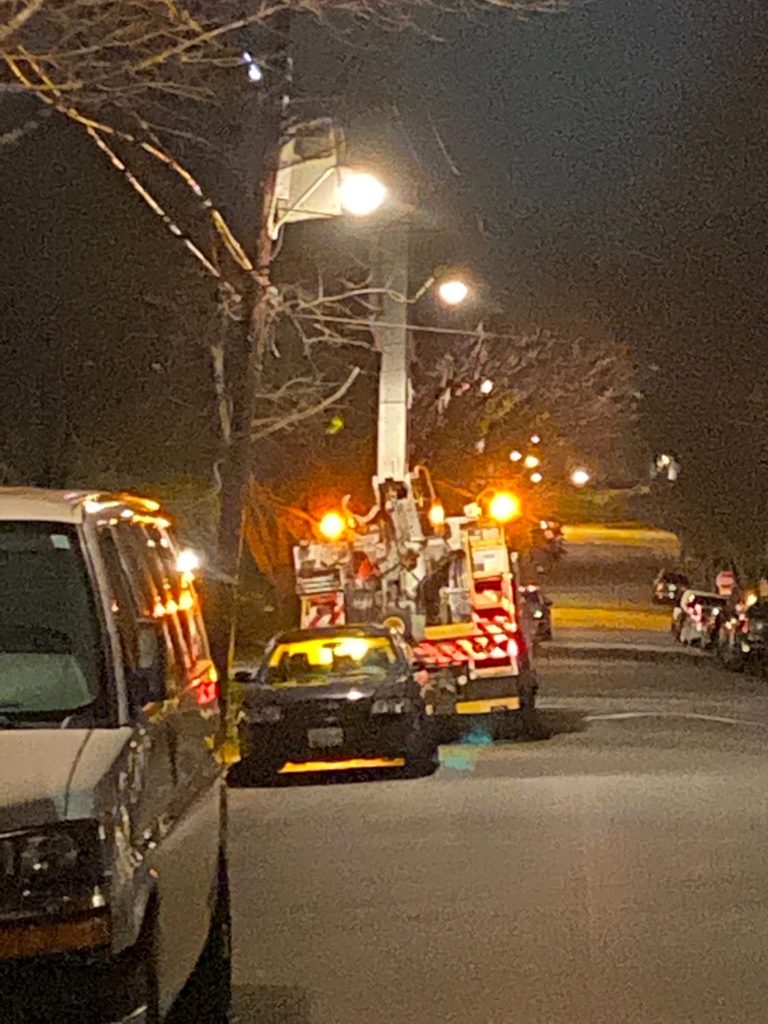 Loose/poor neutrals are the most common cause of poor power quality. These are considered hazards and are, in fact, very dangerous. By definition, a loose neutral condition results in electrical current flowing in circuits and wires not designed to support the resulting current flow when the load is imbalanced between the two phases of power (this applies to most homes in the U.S, which have split-phase power). These conditions can lead to:
an electrical fire in the home,
damage or destruction of devices and appliances in the home,
electrocution risk, and
a wildfire ignition threat (in arid climates)
Ting detects these conditions and provides guidance to help homeowners contact their utility with confidence.
"Big effort. Two large trucks and a crew of 4-5 SCE [electric utility in Southern California Edison] guys were on-site for 4+ hours…Know they spent a lot of time excavating a vault in front of my next-door neighbor's house… remediating the subterranean connection problems. SCE website indicated that 19 houses in the neighborhood were affected by the repair… Okay… I'm officially impressed with you and Ting. I am not easily impressed. Old tech dude. UC Berkeley physics. UCLA engineering."
---
Identifying Electrical Fire Risks
While no single technology can prevent 100% of electrical fires, Ting has been shown to detect and mitigate ~75% of all electrical fire hazards. Designed to detect precursor signals from arcing, Ting is designed to detect low-level, incipient arcing events that develop slowly over extended periods (days and weeks typically) that can progress in severity to ignite a fire.
Fires that can be caused by a lightning strike, by a homeowner nailing into a wall and hitting a live conductor, or by a sudden extreme surge from your electric utility provider, are sudden and immediate 'catastrophic' events that are 'seen' by Ting but can't be mitigated given their sudden nature. In other words, these events are not typically preceded by 'precursor' events or underlying conditions, and while Ting does "see" these catastrophic failures, it is not designed to alert on these failures.
Other fires caused by 'high resistance connections' can ignite a fire from high heat and not from arcing. This specific condition does not always produce sufficient signals for Ting to detect and mitigate. Ting does a good job of identifying this condition if and when tiny arcing signals are produced; many of the Ting saves involved these types of connections. Fortunately, as a learning system, Ting continues to get smarter when it comes to uncovering these special 'high resistance but no arcing' situations.
You can read more here about what Ting is designed to detect, and what Ting is unlikely to detect today.
---
It takes a village! Stay in tune with your home, be aware of common signs that might indicate an electrical fire hazard.