October reveals quickly changing seasons in many parts of the U.S. It is known for some of the best weather and most colorful scenes. However, in 1871 October also brought destruction and death when a disastrous fire took a toll on a major U.S. city. With that, October has been an official safety observance for the past 99 years.
---
The 'Great Chicago Fire'
The 'Great Chicago Fire' began on October 8th, 1871. This tremendous fire spread quickly and burned for 2 days. The devastation left behind included over 250 people dead, and hundreds of thousands of people homeless. More than 2,000 acres of land burned. The wooden frame buildings along with the combination of dry-heat and the strong Wind conditions of the future "Windy City", led to the rapid spread across the heavily populated city.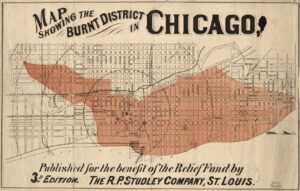 Firefighters, Federal troops, and Citizen volunteers spent 2 long days fighting the flames and eventually on October 10th, seized control and put an end to the fire that destroyed over 17,000 buildings over 3 square miles. The U.S. Census Bureau History provides a brief recount of this tragic event here.
If you're interested in additional perspective and learning more about this historic catastrophe, The National Fire Protection Association (NFPA) produced a great 7-minute video sharing some of the details around the fire and how it helped shape how we construct buildings and cities today.
---
National Fire Prevention Month
51 years later in 1922, in honor of the mayhem and devastation from this fire which was still fresh in the memories of many Americans, President Woodrow Wilson issued the first National Prevention Day proclamation. And it has remained since that first day in 1922, making it the longest-running public health and safety on record in the United States. Today, National Fire Prevention Month is highlighted during the first week of October but runs throughout the month.
---
Resources to help you with fire prevention
Each October, we take a look back to remember what happened, but also look forward to helping spread the word about fire safety. The risk of fire will always be with us. We've come a long way, but have more to do. Fire prevention involves all of us, and technology continues to help in that mission. We're doing our part with Ting, and with our resource center, which includes useful information about fire safety, planning, and prevention for your home, family, and community.
Reviewing your family and home fire safety plan? Get started here with our easy-to-read 5 steps to better fire safety.