Remaining diligent about smoke alarms in your home and the homes of your loved ones is an essential element to staying safe in the event of a fire. Read more to learn the fundamentals or reinforce what you already know.
---
Imagine living in a home for decades with well-placed and working smoke alarms, but they've never had to alert you. We can all hope for this wonderful outcome – however, being this fortunate also requires planning and ongoing sound practices.
Why smoke alarms are so effective
Preventing fires is the best way to stay safe. But prevention is not always possible, so when a fire ignites, your best defense against injury and loss of life is smoke alarms.
Smoke alarms were first used in the late 1890s. In 1969 the first battery-operated smoke alarm came to market. Smoke alarms have a long history, and with that, very compelling data to back up the fact that they save lives – period. Here are some modern-day statistics on their effectiveness:
Three out of five home fire deaths – 60% – result from fires in properties without working smoke alarms
More than one-third (38 percent) of home fire deaths result from fires in which no smoke alarms are present.
The risk of dying in a home fire is reduced by 50% in homes with working smoke alarms.
—–
Source: National Fire Protection Association
It bears repeating:
The risk of dying in a home fire is reduced by 50% in homes with working smoke alarms.
---
Recommended locations for smoke alarms
A smoke alarm should be in every sleeping room and outside each separate sleeping area (think of the hallway where a sleeping room or group of rooms are accessed). Additionally, ensure you have alarms on every level of the home, including the basement. Generally, large homes may need more smoke alarms than smaller homes.
Tip: A closed door may slow the spread of smoke, heat and fire.

National Fire Protection Association
Be sure to check out the most up-to-date guidance on placement here provided by the National Fire Protection Association (NFPA). There's also a one-page PDF guide that you can download here.
It doesn't end with installation; most smoke alarms need regular testing and light maintenance. A well-covered house means nothing an alarm can't alert you.
---
Keeping smoke alarms powered
If one or more of your smoke alarms is battery-operated: Please keep the batteries fresh by replacing them annually. And if you believe you have alarms older than ten years, now is a great time to replace them. You'll be glad you did. Newer battery-operated devices have 10-year batteries, which better aligns with the commonly recommended device replacement period of 10 years.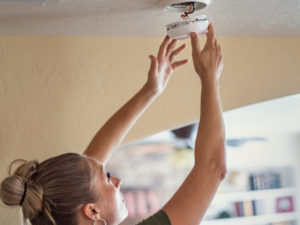 If your smoke detectors are hardwired or wirelessly networked: Make sure they work 'end to end.' Newer detectors alarm with a voice and even let you know what type of alert it is. (If you use natural gas in your home, it makes sense that you include your carbon monoxide (CO) detector plan and testing in your planning!). If your hardwired detector does not have a sealed 10-year backup battery, make sure you replace the battery annually. And once again, if you think you have hardwired detectors older than ten years, now is a great time to replace them.
---
Testing smoke alarms, safely
Smoke alarms should be tested every month. Set a reminder to take 10 minutes to test all of them – it doesn't take long. But if you can't do it safely and don't have a friend, neighbor, or loved one who can do it for you – see below about contacting your local fire department.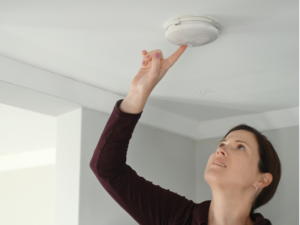 Some newer smart smoke alarms test themselves – which is a great feature. But most don't – they are relying on you to ensure they are in good working order.
IMPORTANT: Don't forget to check any visual alerts, especially if you have detectors that incorporate lighting for the hard of hearing.
---
Your local smoke alarm experts
You're not alone! If your home is missing smoke detectors in recommended areas, or if you think your smoke detectors are not working or have old batteries, or if you can't reach them safely to test them, act now.
Call the NON-EMERGENCY number for your fire department and ask if they will come to your home to help; some will change the batteries or replace faulty smoke detectors for you at no charge.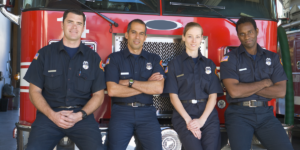 Conducting an internet search for local fire departments is a great way to find the local number. If you see a phone number, that is the non-emergency number. (of course, fire emergencies don't require a phone number, dial 9-1-1 and get to a safe place outside your home).
---
A smoke alarm is alerting – what to do next
Not surprisingly, today's smoke alarms are more advanced and can respond to several fire conditions and reduce typical nuisance alarms. Regardless of the type of smoke alarms you have, when they alert, get outside and stay outside. The Red Cross has a great program to help you design a plan of action when you need to evacuate, called Sound the Alarm.
After you've optimized your smoke alarm situation, check on a neighbor or loved one – spread the goodness. And as always, your local fire department is there to answer questions and give you a hand if needed. Remember, a good smoke alarm setup is only part of your overall home fire safety plan – see all 5 elements here >>.