Most of us seem to get through the winter season and holidays without experiencing a safety-related incident in the home. Chalk it up to common sense and some good old-fashioned luck. Despite less daylight, hectic end-of-year schedules, and packed calendars, most of us generally tend to do OK.
---
The fact remains: this is the time of year when safety-related incidents increase. And home fires grow in number and impact. With that, we've updated our annual holiday and winter season home safety refresher – we hope you find it valuable.
Festive celebrations, flickering lights and winter greens are hallmarks of the holiday season, but they also present fire risks that can quickly turn this festive time of year into a devastating one.

National Fire Protection Association (NFPA)
'Safe' is usually implied
Having a 'safe' holiday is normally not the first thing we think of when it comes to this time of year. Safety risks increase in the home this time of year.
Take control and pay special attention to common risks – prevention is key to help keep the season happy and bright. Keep reading to learn about (and how to prevent) 6 common causes of home fires that are directly responsible for the overall increase in fire frequency during the holidays.
---
1 – Inspect lights and any electric decorations
We all love holiday lighting and decorations – from traditional icicle or netting lights and lighted garland, to more modern LED string sets and motorized displays. Closely inspect these before you decorate – most are not designed or priced to last for a long time. Replace worn, broken, or loose bulb connections.
Many times it's what you can't see (Ting's specialty!) that can silently lead to a fire – even after you've inspected. Below is one such example from a Ting customer.
We had a fire disaster diverted!! A very old snowman ornament had a malfunction and Ting alerted us before it truly overheated. It was on cotton snow so we are sure it would have created a fire…arcs were detected and when TING contacted me, we figured out what was creating the arcs and when I touched the snowman he was hot! YIKES! We are very thankful to Ting.

Alice S.
Campbell, CA
When you're hanging outdoor lights, be sure to use a ground fault circuit interrupter (GFCI) outlet. Make sure each device or string of lights has UL Approval. While checking for that, get familiar with the fine print on the tags – look for amps, voltage, and/or wattage. LED sets will draw much less amperage than traditional incandescent sets, so it is safe to string more of them together. Follow the manufacturer's recommendations, and don't overload your power strip, extension cords, or outlets.
UL (Underwriter's Laboratory) approval is not a legal requirement, but most reputable companies who manufacture or sell electronic devices – like us at Whisker Labs and our Ting sensor – seek the UL certification.
Also, inspect your extension cords and accessory plugs; if you're like me you rely on these when staging your 'envy of the neighborhood' display. These items can wear over time, especially if used outdoors (make sure they are rated for outdoor use!). Look for corroded metal, cracked insulation, or other damage – don't use it if you find damage.
Spot the signals. Once your job is done decorating – if any time during their use they blink or go out unexpectedly, this could be the sign of an electrical fault.
Practice Safe Climbing. This is also a great time of year to cover other common precautions, such as ladder safety. Whether outside or inside, exercise care when choosing to use a ladder: follow guidance printed on the ladder, make sure it is properly rated and in good shape; and for taller ladders or locations where you don't believe the footing is ideal, have someone attend to the ladder when you are on it.
2 – Keep cut trees watered
We've all heard the argument – "I'll only have it for a few weeks, why should I keep watering it?" Sure, watering can help the tree stay fresh and aromatic longer. That's the mainstream mindset. But the benefit of watering goes well beyond looks and smell – it is about life safety.
Below is a brief but impactful video courtesy of the National Institute of Standards and Technology. The video on the right is what can happen when we let a cut tree dry out. Before you vow to never again decorate with a cut tree, note the video on the left shows that same electrical fault occurring in a watered tree – with no fire spread at all.
A live Christmas tree burn conducted by the U.S. Consumer Product Safety Commission (CPSC) shows just how quickly a dried-out Christmas tree fire burns, with 'flashover'(a very devastating event) occurring in less than one minute, as compared to a well-watered tree, which burns at a much slower rate.
The reduction in risk of keeping your cut tree watered can't be understated.  So, to reduce the chances of your cut tree serving as 'fuel' for a fire, make it a ritual to top off the water at the base of your cut tree every day.  If you will be out of town for a few days, top it off before you go. You can find helpful tips on tree safety courtesy of the National Fire Protection Association (NFPA).
One last note on decorative trees: if you If go with an artificial tree, which is a great alternative to cut trees, make sure it's labeled "fire-resistant."
3 – Avoid overloading outlets
Not every outlet is created equal. Older homes may be wired with 15 Amp-rated outlets with thinner gauge conductors. Newer homes will normally have 20 amp outlets.
Regardless, the number of outlets on a given circuit can impact what you can plug into any given outlet on that circuit. Put another way, when there are only a few outlets available in a given area, a circuit can get overloaded fairly easily.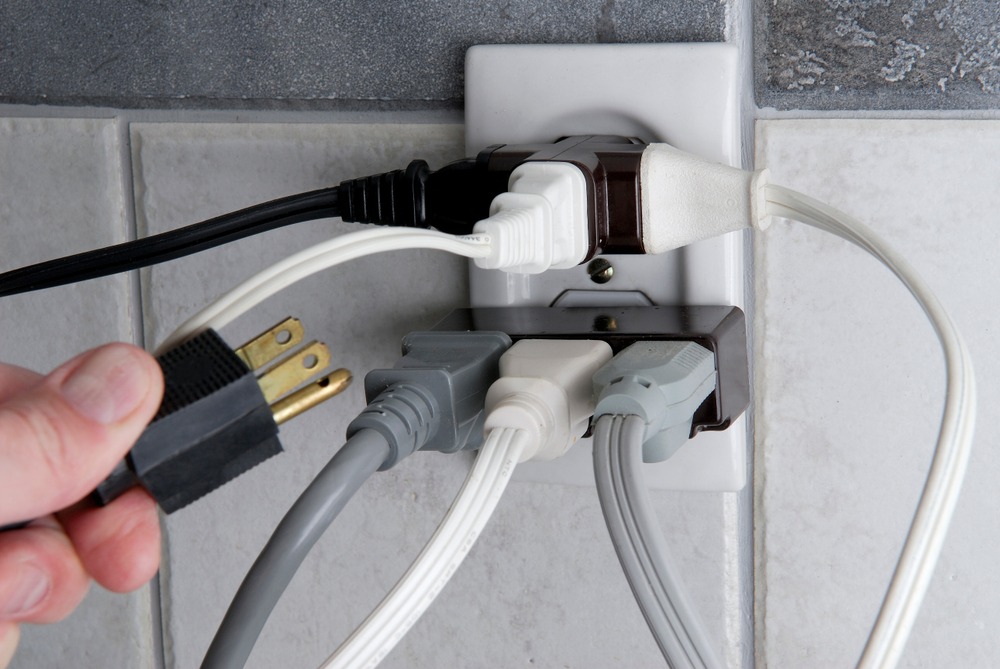 Overloading leads to overheating, which can lead to compromised insulation, short circuits, and fires.  When in doubt, don't plug it in. If you're interested in device cord safety, and hopefully you are, we provide a full list of tips here.
4 – Be vigilAnt when using electric heating devices
While it is easy for many of us to dismiss the importance of supplemental heat sources, we don't always have a good alternative for keeping loved ones safe and comfortable. Space heaters and heating pads/blankets are the two most common devices used when additional heat is needed.
Space Heaters. there are some very basic rules that – if followed – will help keep you and your loved ones safe when using a space heater.
Don't place a space heater within 3 feet of any flammable object, including bed sheets, curtains, or upholstered furniture. Never leave a space heater unattended, and keep children and pets from getting too close. If electric, don't use an extension cord. And don't overload an outlet or circuit (if you're not sure if it will, don't plug it in – ask a family member or the local fire department for guidance).
More than half (53 percent) of all home heating fire deaths resulted from fires that began when heating equipment was too close to things that can burn, such as upholstered furniture, clothing, mattresses or bedding.

NFPA
For a complete list of safety measures, please see our (thankfully) popular post: Safety Tips: Staying Warm with Electric Heating Devices.

For additional guidance and peace of mind, here's a guide from the NFPA on portable heater safety.
Heating Pads/Blankets. Ting regularly sees and identifies faulty electric blankets. Hazards found in faulty heating pads/blankets are not insignificant; upon inspection, the arcing activity is normally due either to poor component quality (even in newer blankets) or to general wear and age.
Make sure your electric heating blanket is UL certified. Never leave it plugged in unattended, don't smother it under other blankets, and regularly check the cord where it connects to the blanket and the controller for compromised insulation or loose connections. Learn more tips with our comprehensive safety guide for heating blankets.
5 – Use candles with care
The National Candle Association says it succinctly: There is a special beauty to candles, but a lighted candle is also an open flame and a potential fire hazard if not carefully monitored. An estimated 8,200 home fires are started by candles each year, according to the NFPA.
A study by the U.S. Consumer Product Safety Commission suggests that 85 percent of candle fires could be avoided if consumers followed three basic safety rules: Never leave a burning candle unattended. Never burn a candle on or near anything that might catch fire. Keep candles out of the reach of children and pets.

National Candle Association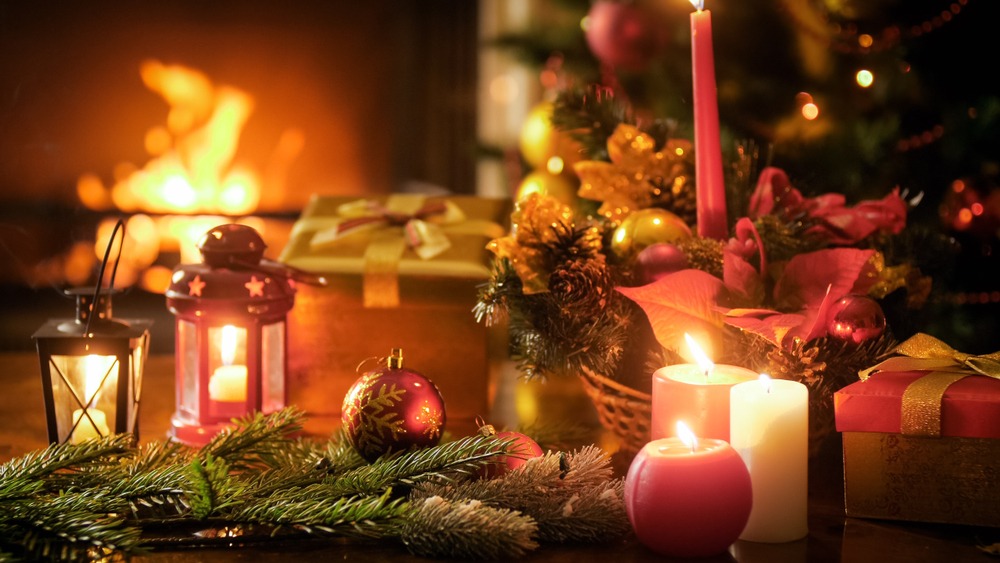 Only use candles if you have a few feet of separation from anything that could ignite – all the way around, including above it. This includes curtains, paper, wood, clothing, and decorations.
All too often, a candle is lit on a bookshelf or decorative corner shelf with little attention paid to the shelf above.
---
6 – Practice good fireplace safety
Whether you have a traditional wood-burning fireplace, gas insert or pellet stove, there are a number of common-sense precautions that go along with each. These include using the right 'fuel'; protecting from high heat and flames with proper protection such as screens; allowing the device to 'breathe' while burning fuel, and proper maintenance.
Similar to the candle concept above, maintain proper clearance for things that can burn and for kids and pets.
This article by This Old House – you know, that show that has been around for 40 years on PBS and first hosted by Bob Vila (if you are not familiar, it's worth a look), touches on the basics of fireplace and chimney maintenance.
---
Final thoughts.
This winter season, before you retire for the evening or leave the home:
put it out, blow it out, and/or turn it off.
If you don't already have one, we encourage you to take time to establish a home safety plan, which includes ensuring you have working smoke and carbon monoxide sensors and charged fire extinguishers.
Also, here's a great winter safety resource from the NFPA. You can also find additional information on electrical fire safety on our site.
Have a very happy and safe holiday season from all of us at Whisker Labs!